Have you heard the term "local SEO"? Then you might be a small business owner. And every small business - whether it's a store, office, or place of service where customers can interact with your business - should have a Google My Business listing.
But, what is that?
When you pull up your phone and do a quick Google search for services near you (we'll use "affordable web designers" for the example below) and see a map of local businesses, also known as the local map pack – those are Google My Business listings. If you don't have a Google My Business listing set up, then you won't see your business here.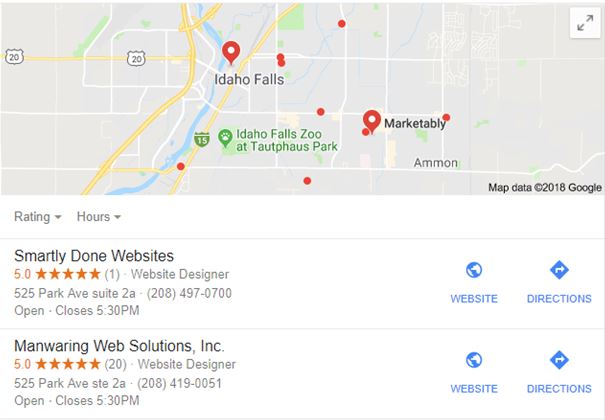 Why is it important for businesses to have a Google My Business listing?
It's the first thing people see.
With the exception of pay-per-click ads, the local map packs are usually the first thing a searcher will see when they are looking for a new service or store near them. If someone is searching for a new store or a specific service, they are more likely to click on the listing in the map pack than any other search result because it provides the most valuable information right up front – address, what they do, and phone number.
People trust Google.
Google and its vast network of local guides are constantly working to provide accurate information through the Google My Business listings. Google is always adapting to make sure it can bring more value to the user. And the map pack is the perfect way to do that. If someone is searching for a service, Google will bring up the nearest businesses that offer that service with all of their necessary contact information. Pretty neat, huh?
People generally trust Google and big brands. Because they know that Google is providing these results for them (and because they are the first results on the page), they are more likely to click on these listings.
You want your business to get found!
Everyone is online nowadays, and if you aren't, you are limiting the amount of business that your company can get. When someone wants to find a clothing store near them or the nearest coffee shop, they do a quick search on their phone because Google My Business listings will show them the exact information that they need.
If your business is not in the results when someone makes that search, you are losing out on potential business opportunities.
You can build brand awareness.
Even if you aren't capturing all of the clicks with your Google My Business listing, landing your business in this local map pack puts your name out there. Even if someone doesn't click on and go to your business this time, the next time they make that search and see your business still there, they might want to give it a try.
You can get great referrals.
Customers can leave reviews and feedback on Google My Business listings. And many people read these reviews before even trying out a new business. This is a great way to get new customers, or to convert potential customers who are on the fence between your business and another. The better your reviews on Google, the better your chances of gaining new customers.
As you can see, there are many benefits to using Google My Business for your company. And the risk of not having one just isn't worth it.
How To Create a Google My Business Listing
We've compiled this list of resources directly from Google to help you create your Google My Business listing.
The first thing you'll want to be aware of is that you do need a Gmail account to claim and manage your Google My Business listing. If you already have a business account with Google, that is perfect. If not, then you can create a free Gmail for the sole purpose of managing your Google account.
This first link will walk you through signing your business up for a Google listing. Follow the step by step instructions here to create your business on Google, or to claim your business if it is already showing up on Google.
https://support.google.com/business/answer/6300717
Once you've created your Google listing, you'll need to verify that your business is real. You can follow the verification process with the steps in this next link.
https://support.google.com/business/answer/6300716?hl=en&ref_topic=6300675
Once you're business is verified, you just need to make sure you are keeping your business up to date and adding relevant details to your listing to help potential customers find your business when they type in a query online.
This final link is a guide from Google that will help you optimize your Google My Business listing.
https://support.google.com/business/answer/6337473
If you wish to speak to Google directly, or have questions about your Google My Business listing, call the Google My Business Support Number at 1-844-491-9665.