Google Ads
Google Ads is an online advertising platform that allows you to set up ads to direct web users to your website. The great benefit of using Google Ads is that it puts you in front of customers who are demonstrating strong intent to make a purchase, schedule an appointment, etc. People go to Google to shop, so it's important to make sure that you are showing up whether that's with ads or SEO (more on this later).
The cool thing about Google Ads is that it has powerful targeting capabilities. You can show your ads to your specific audience by defining the location, age, gender, income, and interests of your target customer.
Many business owners start Google Ads to show up and increase online sales and conversions but make the mistake of poorly targeting their audience and end up wasting a lot of their advertising dollars!
Another mistake many businesses make with Google Ads is not monitoring or measuring their results.
Using free tools such as Google Analytics and the built-in conversion tools provided by Google Ads, you can really analyze the effectiveness of your campaigns, like what key phrases are generating the best engagement and leading to conversions. You should be measuring, analyzing, making changes, measuring and monitoring again, etc. If you aren't doing this, you will end up wasting a lot of money.
There are a few different types of Google Ads that businesses can try out:
1. Search Ads
Search ads are the typical ads that you see when you do a Google search and the top results show the little "ad" indicator to the left of the URL.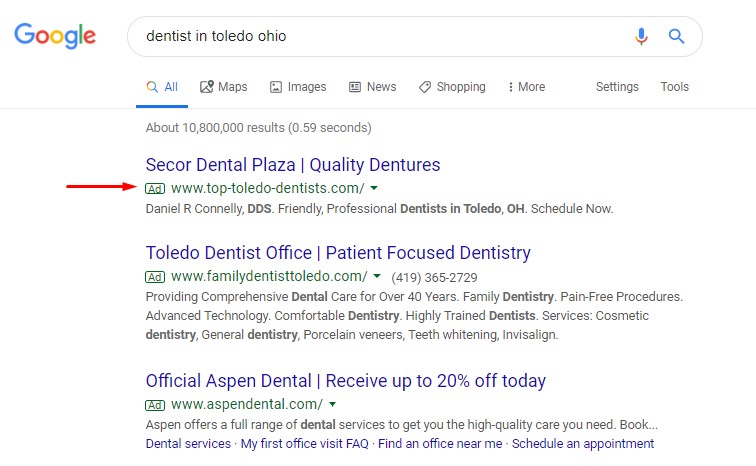 2. Local Ad Extensions
Local ad extensions are an added feature that you can take advantage of with your search campaign. They allow your business to show up in the map pack (shown below) when it would be difficult to do so otherwise, like if you aren't the nearest dentist to the searcher. These are super helpful for showing up in nearby cities and neighborhoods.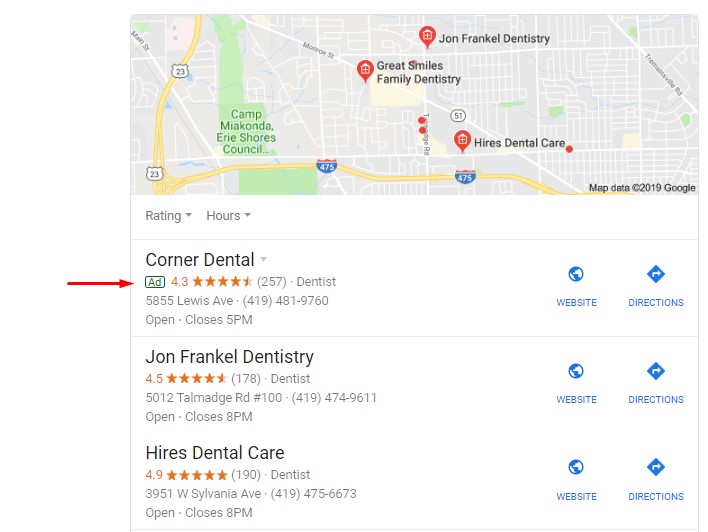 3. Display Ads
Display ads show up across other websites, typically in a sidebar and sometimes within the content of a website. These are displayed to users that have performed a search for your services or have been on your website before. These are great for generating brand awareness, but don't often convert into direct sales because of the user intent. If someone is reading through a blog and your ad shows up, it reinforces your brand, but that user isn't typically shopping for your services or products at that time so they aren't as likely to click.

4. Mobile Ads
There are a couple different types of mobile ads: Universal App Campaigns and Call-Only ads.
Universal App Campaigns are used to generate more installations of your company's app. So if you don't have an app, that's probably not for you.
Call-Only ads are great for any business that wants to generate more phone calls. These ads only show up on mobile devices and display your phone number instead of an ad headline to entice users into clicking and calling.
5. Video Ads
Video ads allow you to run ads on YouTube videos and across the display network (like the display ads mentioned earlier). Learn more about Google's video ads here.
6. Remarketing
Another cool way you can utilize your Google Ads is by remarketing any of these ads to people who have already visited your website. This is especially handy to capture those who have been on your site but weren't ready to make a purchase. So you can "remarket" to them and display your ads to them when they are searching again to buy your products or services. Learn more about remarketing from Google's Help Center.
With search ads, including local ad extensions and mobile call-only ads, you typically pay for each click that your ads receive. For display and video ads (remarketing ads typically fall under this category), you pay for the amount of impressions your ads get, or how many people see them. You can target your ads with specific keywords and demographics. However, depending on your market and how much competition there is, this can get pretty expensive.
If you have a brand new website that you are trying to get sales or leads on, Google Ads can be a great starting point to help with this. The reason being that your website isn't going to show up on Google right away, so you may want a supplemental strategy to get you going. It takes a long time and a lot of effort to show up in the organic search results, especially if there's heavy competition in your market.
What You Need To Know Before Starting Google Ads
Google Ads is a great way to get fast results, and you can get a campaign running within an hour. But it isn't for everyone, and it can be a very expensive long-term strategy.
You need to evaluate if it would work for you based on the average cost per click for your key phrases, your conversion rate, your average order size, your profit margins and the lifetime value of a new customer. For instance, maybe the cost per order will eat all of your profits on that initial order - or even cost you money - but if you have a high likelihood of selling to that customer again, it might be worth it. You need to determine if the costs of the ads you're paying for are worth it based on the return you get out of them.
Google Ads can be a very expensive long-term strategy. Some businesses use it long-term and make it profitable, but we would never encourage anyone to use it as their only digital marketing channel.
When To Use Google Ads
When launching a new business, product, or service and you need immediate results
To quickly generate more online sales for phrases for which you don't rank organically (only if your ROI is good)
To generate more brand awareness (especially with the help of display ads and remarketing)
---