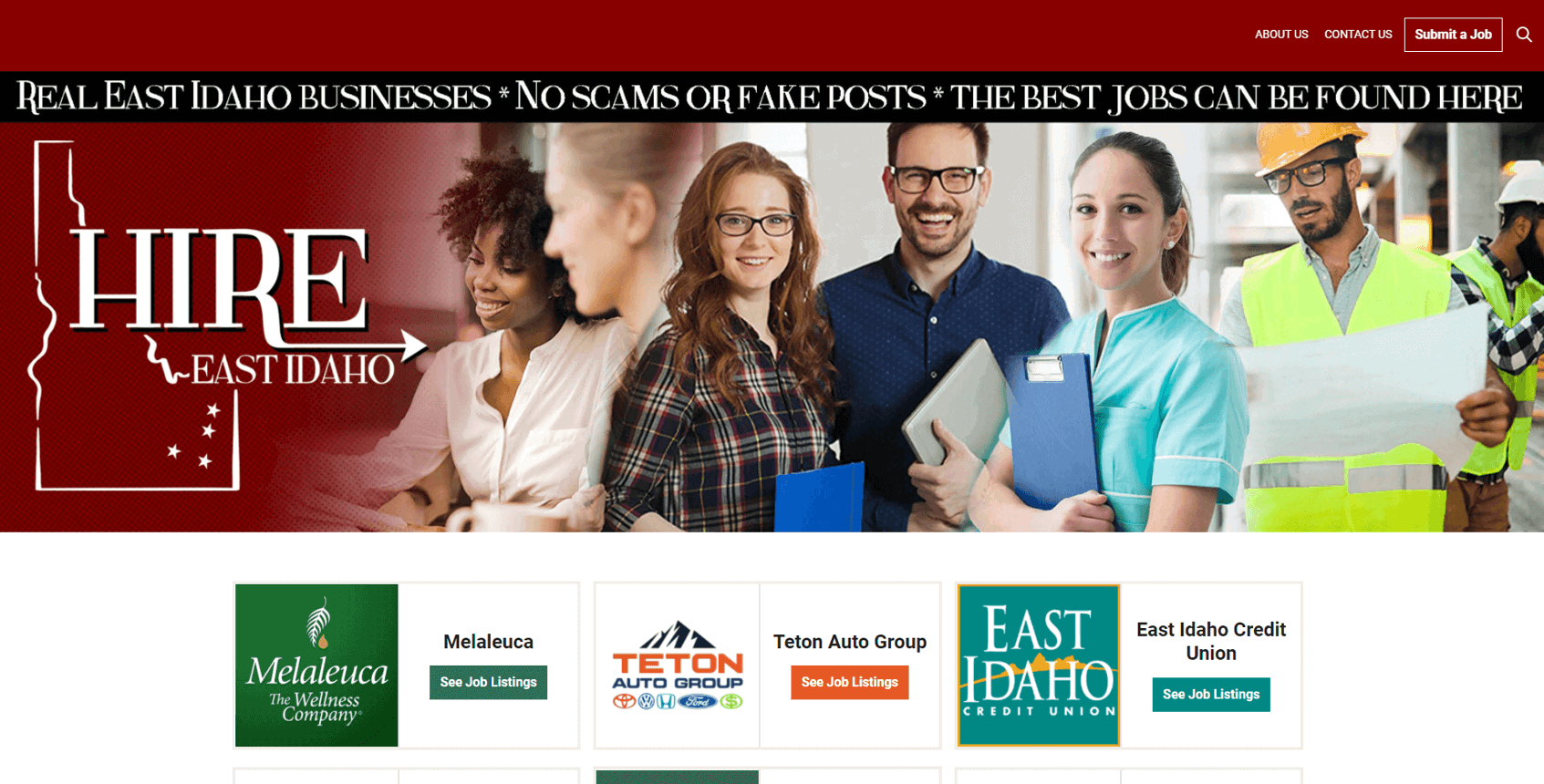 Hire East Idaho is the newest source for job opportunities throughout Eastern Idaho. A product of Riverbend Communications, their new site provides premium sponsors—Melaleuca, Teton Auto Group, East Idaho Credit Union, Idahoan, Mountain View/Idaho Falls Community Hospital, and Riverbend Communications—the ability to feature endless jobs in easy to find, easy to apply formats. Non-premium businesses are also given the opportunity to advertise jobs within the region at no cost.
This fully custom website required heavy lifting from our development and design team: Adam Humpherys, Jesse Hillman, and Kyle Richards. Together, they created conditional submission forms, allowing employers the option to screen new job postings and applicants all at the convenience of an email submission. Jesse implemented procedures to allow premium sponsors more exposure due to their paid sponsorship, while filtering the non-paid businesses as secondary postings.
To help feature the premium sponsors, Kyle created color schemes that coincided with the branding of each business. This subliminal yet direct method of showcasing premium listings gives users a color-coded, visual reference to the business from which it associates. Additionally, individual landing pages were created to organize premium sponsored job listings that matched the branding and color schemes of each organization.
In anticipation of Google ads and monetized content, Kyle styled blank spaces adjacent to job postings in lieu of ads soon to come. Whenever Hire East Idaho begins to monetize advertisements throughout the site, components are already in place to seamlessly fit within the layout of the page.
Our capabilities in web design, marketing, and content creation were put to the test in this new addition to the web. As our clients would agree, their new site lives up to the high expectations and user-friendly functionality they've come to expect with our capable team here at Smartly Done. Give the site a look and peruse for a new job over at hireeastidaho.com.