Getting online reviews and filling out online profiles for your business are both important parts of showing up well in the search engines. Google, Bing, and other search engines use online directories like Yelp, Yellowpages, and so many others to help verify that your business is legit.
This gives your business credibility and gives you the opportunity to receive online feedback from your customers via the reviews on these websites.
Yelp is an important website in the world of online reviews, so it's a good idea for your business to have a listing to both help give you more credibility with the search engines and get more reviews.
In this guide, we'll show you how to create and claim your Yelp business profile.
How to create a Yelp profile for your business
Step 1: Create a Yelp Business Account
Go to biz.yelp.com/signup to create your account. Under your business account, you can manage multiple profiles for several businesses or locations. You don't need to have a separate login for each business you own or manage.
Fill out your first name, last name, email, and password. Then click "Sign Up."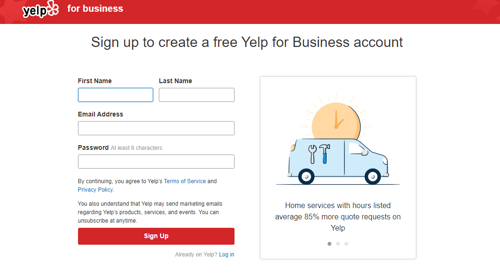 Step 2: Search for your business
Next, Yelp will prompt you to "look up your business." Sometimes business profiles are automatically generated from users who wanted to leave reviews. So it's important to check to see if you have a listing already out there before creating a new one.
Before filling out your business information, go to Yelp.com in a new window and search for your business. If you don't find it, then return to your biz.yelp.com window and continue to Step 3.
If you do find your business, it will likely have an "Unclaimed" notice next to the name. If that's the case, then hover over "Unclaimed" and click "Claim this business." Yelp will then prompt you to receive an email, text, or phone call to verify your business profile. See Step 4 for more details.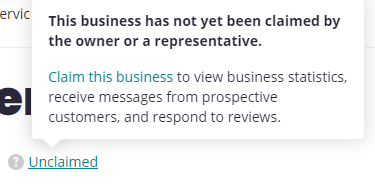 Step 3: Add your business
After you create your Yelp business account, you'll be brought to this page to add your business. Fill out your zip code and business name and click "Continue."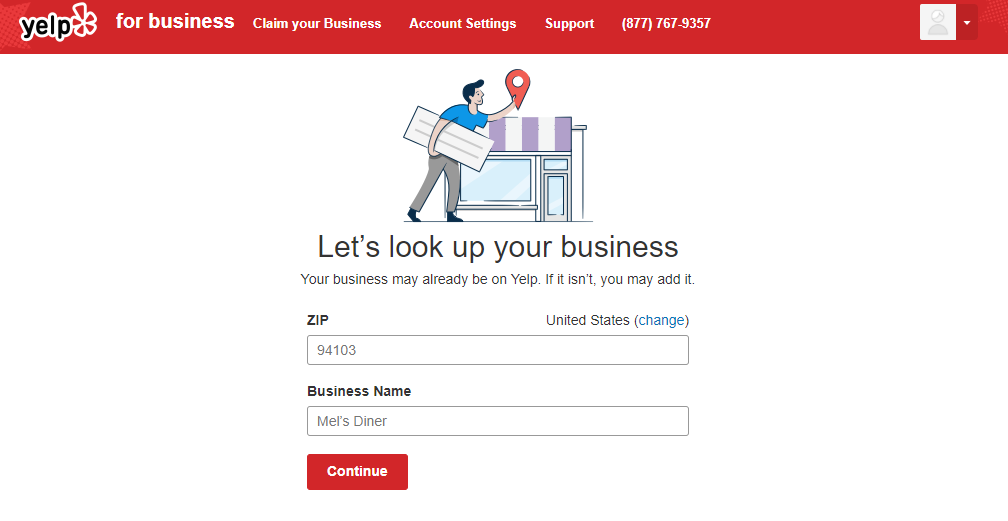 On the next page, fill out your business categories, business phone number, website, and street address. Click "Continue."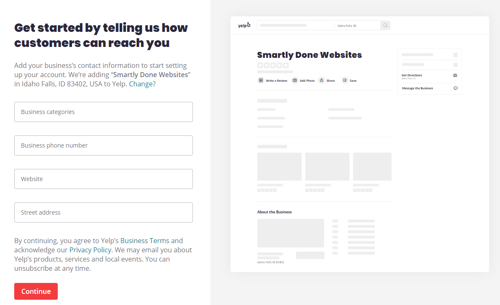 Step 4: Claim your business profile on Yelp
On the next page, you'll see a couple of different options to verify your Yelp business profile. You can receive an email if you have an email set up on the same domain as your business website. Or you can receive a text or phone call to your business number. Whichever option you choose will provide a verification code which you will then enter on the next screen.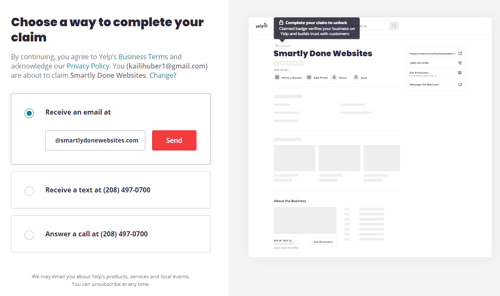 Once this verification is done, you officially have a public business profile!
Step 5: Add information to your profile
The last step is to make sure there is enough information on your business profile for Yelp to show your business to new customers.
On your profile dashboard, you'll see a banner or prompts to add more business information. Click through these prompts to fill out your profile.

Items that you definitely want to include on your Yelp business profile:
Photos of your business
Photos of products (if applicable)
Business Hours
Business category
Contact information (Phone number, website, email)
Services or products that you offer
Menu (if applicable)
Now that your business profile is complete, start getting reviews on Yelp! Check out our Yelp review guide for more information.