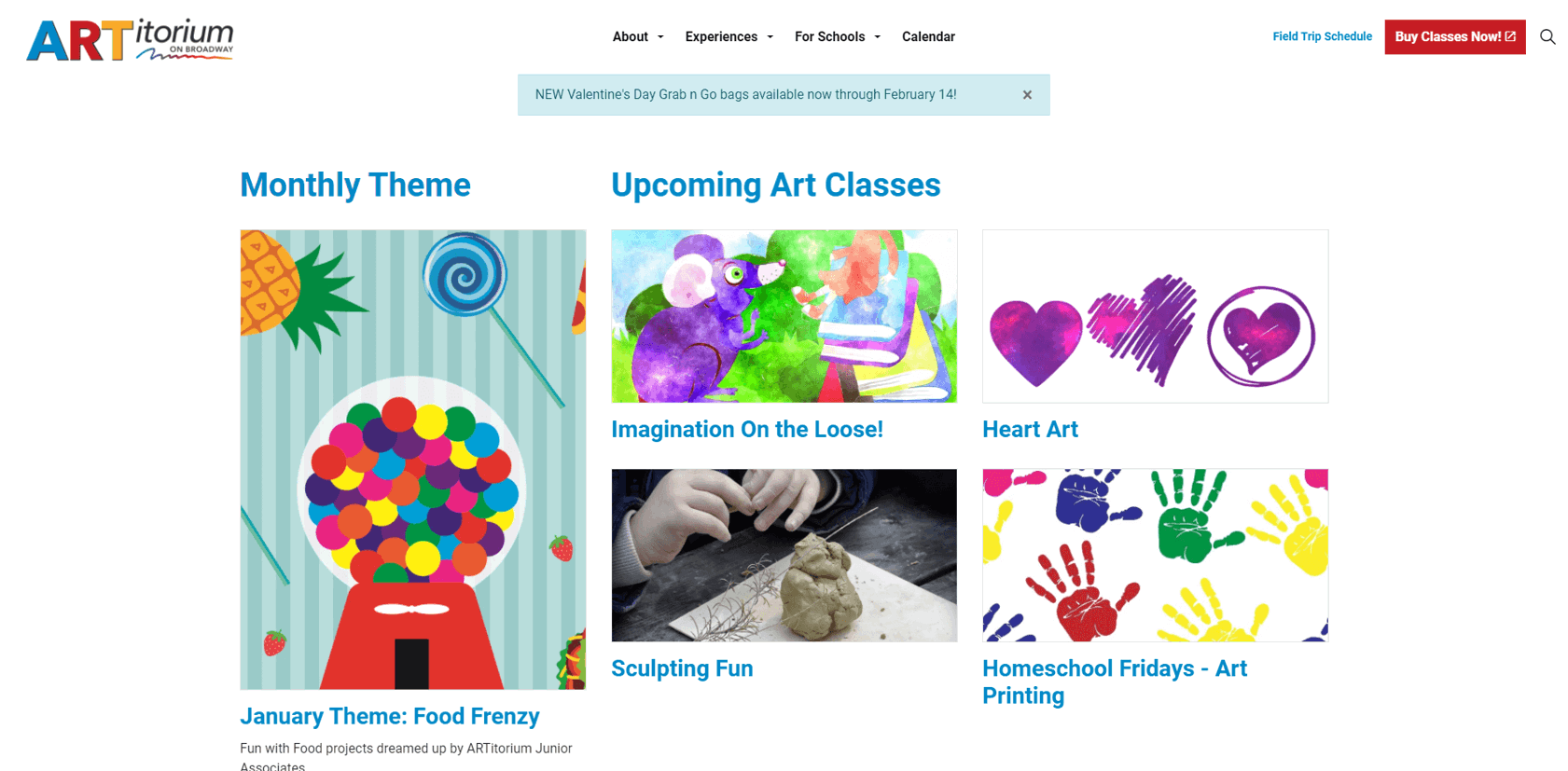 The Idaho Falls Arts Council returned to Smartly Done with a need to update the website of their affiliate organization, the ARTitorium. Originally the Rio Theater in downtown Idaho Falls, the ARTitorium was anonymously donated in 2013 with a dream of becoming "a lively and fun place of kids in downtown Idaho Falls." After building construction was completed in 2014, the modernized and revamped ARTitorium now offers children an engaging experience with "meaningful, entertaining, sometimes noisy, and always fun" activities throughout their facilities.
With such glowing reviews of our work on the Idaho Falls Arts Council's new website, we extended our custom development into filterable calendar options for art classes and events for their many activities for varying ages. To implement a more modern aesthetic to the site, our Lead Designer, Kyle Richards, and Content Lead, Casey Soelberg, collaborated with the ARTitorium team, led by their Visual Arts Director, Georgina Goodlander, to minimize their main navigation into four categorized sections. This simplistic and easy to navigate header provides users an optimal experience to quickly find any pertinent sections throughout the site.
To add to the kid-friendly design and appeal to the site, Casey and Kyle utilized the many built-in animations within the content management system (CMS), Umbraco. Every page features a visually fun and engaging component to exude the lively exuberance the ARTitorium provides their enthusiastic clientele.
For extra convenience and functionality, we utilized Umbraco forms to create field trip requests, travel grant forms, and birthday party applications for a streamlined digital submission process. Now the ARTitorium is equipped with a means to handle their numerous submittals under one all-encompassing, online platform.
To see the latest work we've done for the ARTitorium, visit their shiny new website at www.artitoriumonbroadway.org.