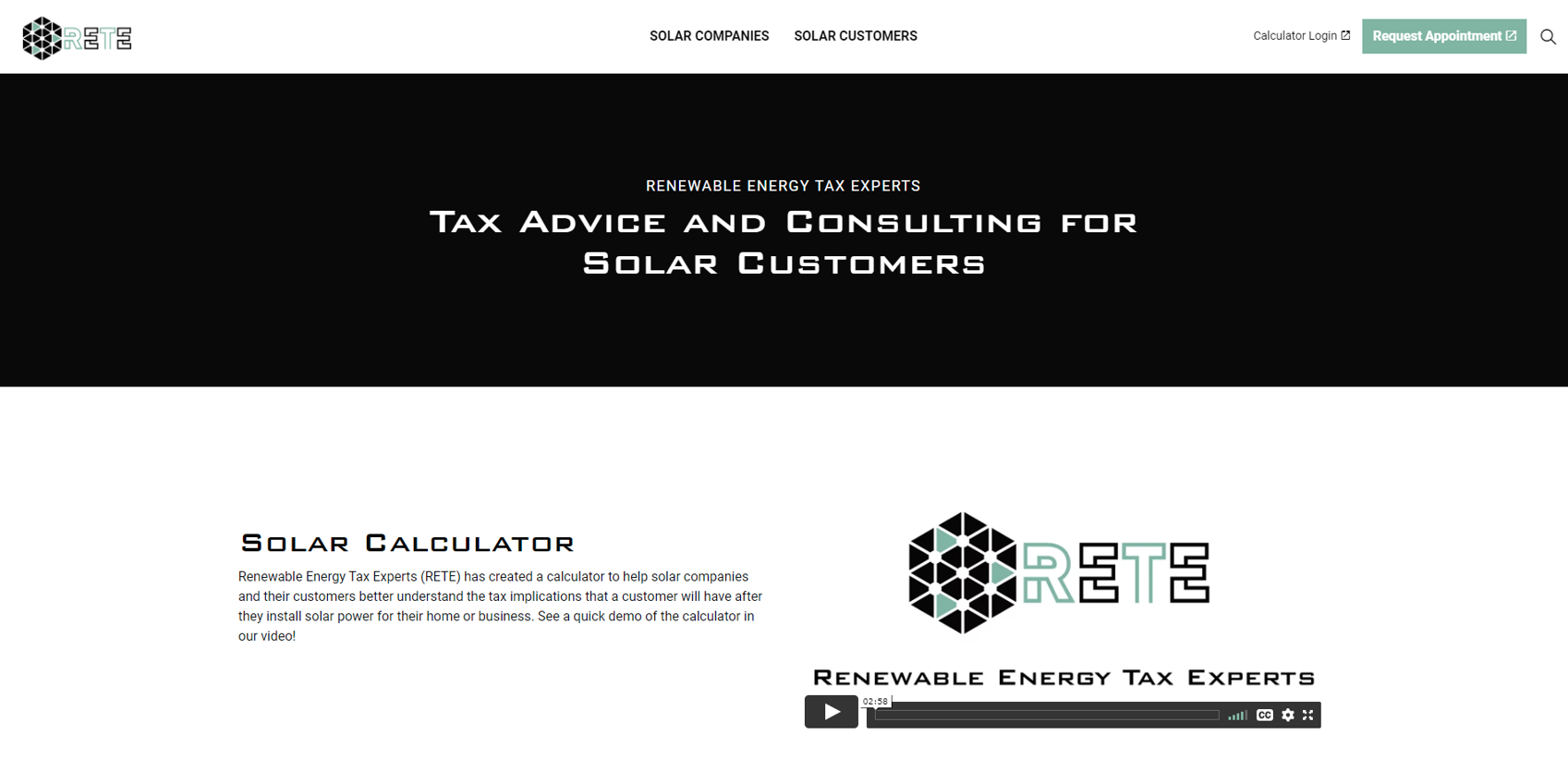 As the world adjusts to the evolving landscape of renewable energy, an organization is revolutionizing the way individuals can better understand the tax implications of going green. The Renewable Energy Tax Experts (RETE) have introduced a proprietary calculator to determine tax breaks, incentives, and benefits of transitioning to solar power for both solar companies and solar customers. 
Founders Brian Gillenwater and Brandt Goodwin sought to present their solar resources to an eager community of energy experts and enthusiasts in April of 2022. Before doing so, they required a website and marketing materials to best showcase their growing services. With only two weeks to gather assets and create content, our team obliged to meet their quick deadline. Our to-do-list consisted of developing a website, consolidating content from Brian and Brandt in segmented formats fit for the web, designing brochures, and creating a video tutorial to demonstrate the services and capabilities of RETE.
Lead Designer, Kyle Richards, began by matching fonts and colors to the existing RETE branding throughout the site. Project Manager, Kaili Killpack, went right to work on consolidating and elevating RETE's written content utilizing our content management system's (CMS) built-in components. For video work, our Content Lead, Casey Soelberg, provided voice over services, stock video footage, and screen capturing capabilities to document RETE's proprietary calculator.
With our short turnaround to prepare RETE for their marketing expose', we satisfied the needs of our client in time for the convention. Our all-encompassing digital marketing, media production, and web development services provided RETE everything they needed to be ready for their future customers. To see our work on a time crunch, visit their website at www.RE-TaxExperts.com.