Your navigation bar is critical for people to find information. It should be well labeled, organized, and linked to the appropriate page. If you have numerous pages of information, consider adding drop-downs for your navigation menu. If you want to add, delete or reorder your navigation, this tutorial will show you how. 
Changing/Deleting Items in Your Navigation
Step 1: On the sidebar, there is a gold gear icon labeled "Website Configuration." Click the dropdown arrow to find the navigation section. Click on "Navigation."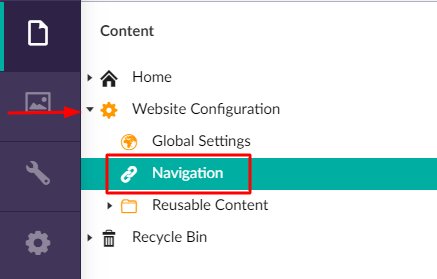 Step 2: After clicking on the Navigation window, click the "Main" option from the top tabs. This page will show you the current pages/links on your main navigation menu.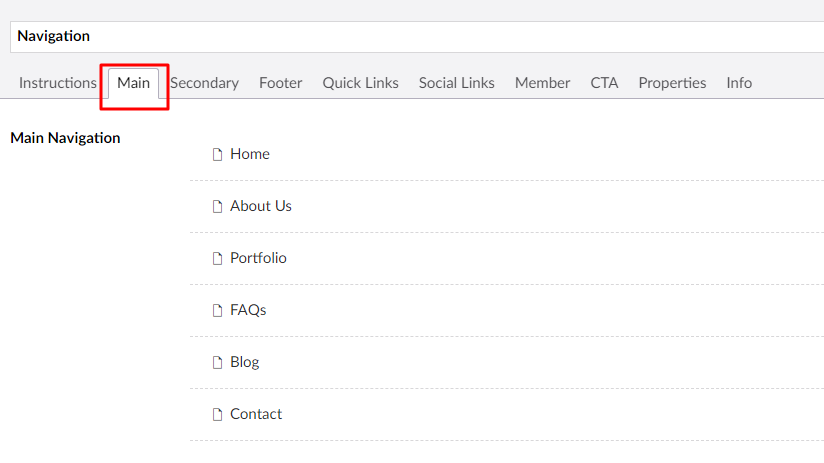 Step 3: Hover over each item on your navigation list to find the edit, move, and delete options. If you want to delete a page from your navigation bar, simply press the trash icon here. It will not delete the entire page, it will simply remove it from the navigation.

Step 4: If you want to change the order of your main menu, hover over the page you want to move, click and hold the arrows icon, and drag it to the position you want.

Adding to the Navigation Bar
Step 1: On the same navigation page under the "Main" tab, click the plus sign at the bottom.

Step 2: Clicking on the plus sign will create a new page labeled "Item #." In this case, because there are already six pages, this item is labeled "Item 7."  Create a caption for your page like, "About Us," or "Contact." We will label ours as "test page." 

Step 3:After naming your page, click the "Add" button in the URL space below. This will open a side tab where you can add one of three options:
A URL link to take you to a different page that isn't on your website
A page you've already created in Umbraco
A media source like a photo, video, or PDF. 
We'll go over each of these in more depth below.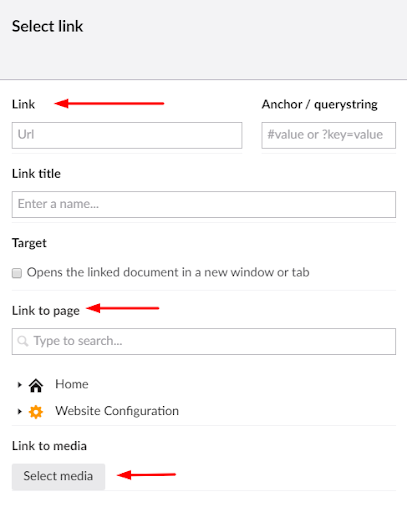 ---
Linking to a URL
If you have another website you want to link to, simply insert the web address in the URL box and title it. You don't need to put anything in the Anchor / querystring box. Check the "Opens the linked document in a new window or tab" option.
Having the URL open in a new tab keeps your visitors from losing your site and straying too far from your services.
When you are done, press submit.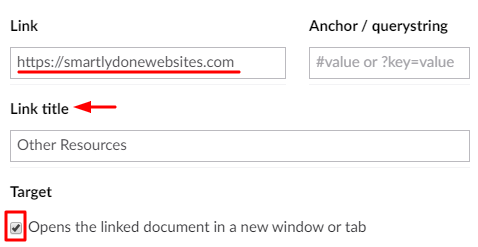 Linking to Page
If you created a page under the home menu, drop down the home icon and find the page you want to add to the navigation bar. You can also use the search function to find your page. Click on the page you want to add. Once you click it, a checkmark will appear verifying that it is the page you selected. Then press submit.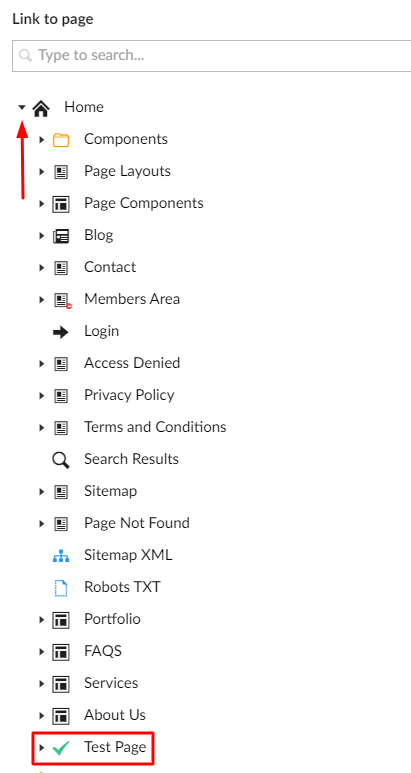 Linking to Media
Click the select media button and choose the file you want; a green checkmark will appear. Then press submit. 
---
Creating a Sub Menu
Step 1: If you want to create a sub-menu under one of your existing navigation headers, click the edit icon on the side of your preferred header. Here you will see a title called "Sub Menu" with a small plus sign at the bottom. 
Step 2: Click the plus sign. This tab should look familiar if you have added new pages to the navigation bar. You will want to label your new page and add a URL. For assistance with linking, follow the steps under "Adding to Navigation bar" above.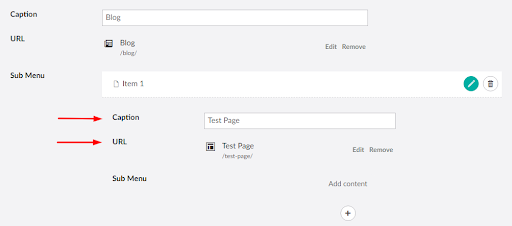 Step 3: When you have added a new sub-menu, press save and publish. 

Check your website's navigation bar to make sure all of the pages and sub-menus are linking properly.