If your email has changed or you need forms to be sent to a different inbox, you'll want to update the information on Umbraco. Changing an email on a contact form is simple.
Step 1: Find the contact page (or another page that your contact form is located on) under the home content, click the dropdown arrow to display components, and then click the contact form button item.
Step 2: On the top of the page there is a navigation bar with different options. Click "Contact Form."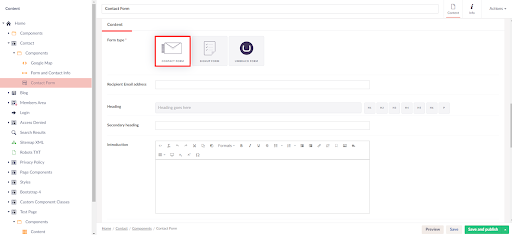 Step 3: At the top of this section there is a box for the recipient email address. Simply erase the current email, type the new email in, and click "Save and publish" at the bottom of the page.
If you want this form to go to multiple contacts, then simply put a comma between each email address.